Wood Floor Clean and Maintenance Re-Coat
Babysoft Carpet Cleaning has partnered with Basic Coatings, a trusted leader in floor refinishing technology since the 1950s, to offer the best wood floor clean & re-coat system available.
Our process will work for solid wood, engineered (pre-finished or factory finished) wood, as well as laminate floors.
We can also remove stubborn waxes from all floors.
Wood Floor Cleaning Process
Deep Floor Cleaning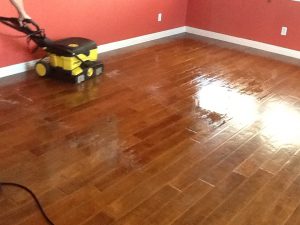 Auto-Scrubber Cleaning
Our deep wood floor cleaning solution from Basic Coatings Company is applied using our Karcher auto scrubber.  This is a precision German technology machine that will apply the cleaning solution, gently rub the solution through the surface of the wood floor to remove soils, and simultaneously vacuum and extract the solution and soils into the machine.  This allows us to clean the wood floor without leaving standing water on the floor.  
Neutralizing Rinse
The Double Rinse
We follow up the deep cleaning solution with a neutralizing cleaning solution to help balance the pH level of the floor and help remove any chance for cleaning residues to remain on the floor.  The solution is worked into the wood floor again using our Karcher auto scrubber.  This rinse also allows us to provide a double cleaning with the auto scrubber, making the floor squeaky clean and ready for the re-coat finish.  
Re-Coat
Maintenance Finish
The final step is to apply the maintenance re-coat semi-gloss finish to give your floors an extra layer of protection and to give it a nice clean and uniform look.  We also have the option of providing a durable commercial grade finish which comes in many more finish options (super-matte, satin, semi-gloss, gloss) which is applied with a special bonding agent called Tykote to provide a sure finish.
Note: The cleaning process using the Karcher and Basic Coatings IFT can also be used on laminate floors, linoleum, cork, and even in some cases, ceramic floor tile and stone. Please contact us for all of your solid floor cleaning and protection needs!
Wax Removal
Please keep in mind that store bought cleaning agents and polishes contain acrylic wax which can make the floors sticky and look cloudy after multiple applications.  This wax coating must be removed before we are able to perform any of the above process steps for cleaning and recoat.  We will test the floors before we start.
Stay Beautiful Membership
No Membership Fees Required!
Get 10% Off Our Services!
Just Book Your Appointment With Us Every 12 Months To Qualify!